Managed Accounts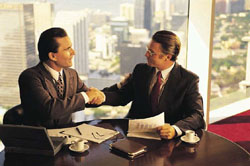 R.L. Johnson Investments provides management of both IRA and non-IRA brokerage accounts for investors. The management of these accounts is performed in our office by our professional staff. We do not use outside third parties to deal with your account. You can meet and speak with the people who are actually managing your money.
You may not have the time or experience to actively manage a stock account. You may not understand the stock market. No matter what your reason or need is for help with your portfolio, we can actively manage it for you. All managed accounts are set up on a fee basis and not a commission basis. We also provide the technology through our website for our clients to have the ability to log in into their accounts to review current investments, download statements, and other information with https://www.mystreetscape.com. Just look for the link on our home page,
Investment Philosophy
In our managed account platform, we meet with each client on an ongoing basis to ensure that the appropriate level of risk is being maintained. The market does not always go up, and we feel it is just as important to minimize downside movement as it is to maximize upside potential. With this philosophy in mind, each account is managed on an individual basis. Factors such as personal preference, need for income/growth, and timing issues, all weigh into what the ultimate makeup of the account will be. Asset allocation based on inidvidual risk may lead to slight differences in return between two accounts in the same risk profile, but it will not change the goal of the manager.
Our managed account platform offers four differnet account risk profiles: aggressive, moderate growth, balanced, and conservative. Each risk profile has a specific goal in mind and allows some flexibility in each allocation. We realize that not every investor wants the same thing. We'll work hard to make sure that the model you choose is right for your risk profile and that it can provide you with stepping stones to help you ultimately reach your financial goals.
*Asset Allocation does not assure or guarantee better performance and cannot eliminate the risk of investment losses.