Why Choose R.L. Johnson Tax Services?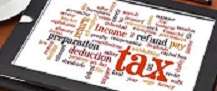 Offering year round tax service to meet your individual needs. Each tax return is as unique as the tax payer you are preparing it for. From the simple 1040EZ to the most complex tax return, we offer a personal individualized return that meets each tax payers needs.
A complete interview with each client to get to know the personal situation and evaluate the tax needs of the individual as a person and a family is the goal of our tax office.  We apply the same tax laws to each person. But knowing the ins and outs of the tax laws allow us to apply those laws to individual circumstances to complete the most accurate advantageous tax return for you.
The small business owner seems to fall between the professional gap of not needing a CPA nor feeling that is an affordable option to not feeling comfortable with doing all the paper work themselves. We meet the needs of the small business owner. Providing as much or as little support as they need to keep accurate, up to date records to make preparing their tax return a stress free experience.  We can offer end of year reporting statements such as 1099s and W2s to doing a full service bookkeeping account from your invoices and receipts. 
We are experienced with navigating with everything from childcare to the sales of stocks to make sure you are confident your return is completed in an accurate, personal and professional manner. We are here year round to answer all your questions about retirement, life changes such as marriage, divorce, child birth to a death. All situations lead to tax questions. Having someone you trust and feel confident talking to helps simplify all of life's tax changes to become more manageable. R.L. Johnson Tax Services is that solution.
R.L. Johnson Financial Center
Investment Services (513) 367-1031
Tax Services (513) 367-0145